About As Kneaded Bakery
As Kneaded Bakery is a woman-founded artisan bread bakery whose sourdough loaves, French baguettes, challah, and noshes nourish communities across the Bay Area at farmers' markets, independent grocers, restaurants and as of November 3, 2018…our very own brick-and-mortar store in San Leandro at 585 Victoria Court!
About ILIANA BERKOWITZ, OWNER & head baker
A Bay Area native, Iliana spent years on both coasts honing her craft in bakeries and restaurant kitchens before deciding in 2016 to build her own bread business--one that would reflect her unique palate, perspective, and passion. After developing an initial fan base through pop-ups and a weekly bread subscription program, known as "Bread Club," Iliana took the leap to serving wholesale accounts and farmers' markets. As AKB continues to reach new heights, Iliana's original mission remains the same: Deliver wholesome breads of unparalleled taste, texture, and substance--and a few bread puns every now and then for good measure.
MEET THE REST OF THE AS KNEADED TEAM
SUNSET'S 21 BEST BAKERIES IN THE WEST
"There's a lot to love (and devour) at As Kneaded Bakery…Owner Iliana Berkowitz has an especially loyal fan base for her bostock—a thick-cut piece of challah with seasonal jam, in-house almond frangipane, and sliced almonds."
"San Leandro is getting a new, bread-focused bakery that is sure to become the envy of surrounding East Bay cities…Beyond the deeply dark crusts, what's striking about these loaves is how distinct they taste from one another."
"Speaking of magical, the breads here are something special. Each type of loaf is distinct…each of the breads are made from carefully time-tested recipes. 'They all come from somewhere in my history as a baker,' Berkowitz said."
"As Kneaded Bakery specializes in crusty, naturally leavened sourdough loaves, classic French baguettes, and challah. The bakery, which opened on Nov. 3 and currently operates weekend-only hours, also offers a range of noshes, from bialys and bostocks to morning buns. But, make no mistake, this is not a place for croissants or cookies."
"In this relatively short time, As Kneaded Bakery has quickly become a beloved brand throughout the Bay Area. It's easy to see why. Berkowitz's passion for bread making, attention to detail, and extra helping of love manifest in gorgeously browned artisanal loaves with indulgently crackling crusts."
J. THE JEWISH NEWS OF NORTHERN CALIFORNIA
"At our bakery, every dough is completely different. We are harkening back to the craft of bread making. It was not invented here in the Bay Area in the last 20 years; it's an art that's centuries old."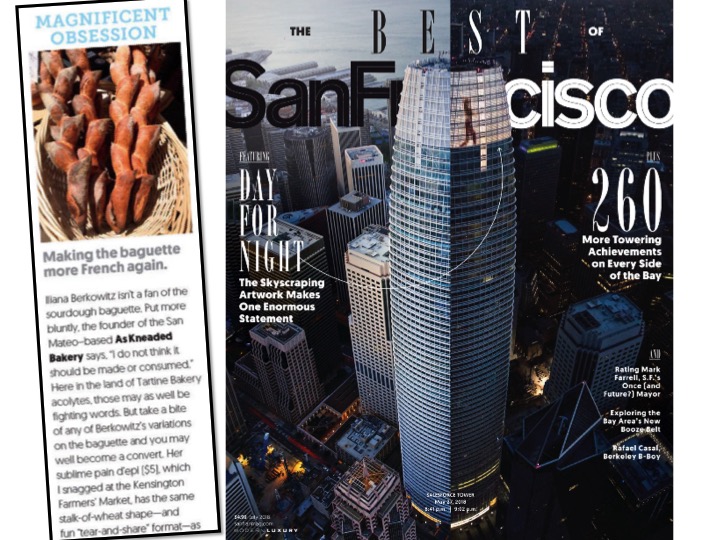 "The bread's flavor is hearty and robust, with a hint of caramelized sweetness...It'll make you feel like you're at a corner bakery in Paris."
"[Berkowitz] said, 'I also think it's important to know your local baker and have connections with the people who are nourishing you. My bread is an extension of me. We are linked inextricably.'"
DIABLO MAGAZINE'S EAST BAY 40 UNDER 40
"Meet the latest wave of inspiring local superstars who are rewriting the rules of the game...[including] Iliana Imberman Berkowitz, owner/head baker at As Kneaded Bakery."
"Inspired by the miche at famous Paris bakery Poilâne, Berkowitz's is a deep brown-and-amber color, dotted with crevasses, air pockets and a sprinkling of white flour. It's chewy, dense and full of flavor."
"Bread baker Iliana Berkowitz is kneading her way into the community and rising up in the artisan business world."
"Instead of brown rice, Pokeatery uses bread from As Kneaded Bakery, which is then topped with a schmear of Hass avocados. From there, diners can build their own dream toast by choosing from a variety of toppings."
"A good loaf of sourdough can change your world, according to Zavala, and those from As Kneaded Bakery will be the ones to do it."
DELISH BY PALO ALTO WEEKLY
"As Kneaded Bakery was born as a pop-up...grew to offer a variety of breads that reflect Berkowitz's background -- the classic French baguette, the rustic round miche, challah and others"